In April 2013 I had some spare holidays left and almost no budget. I had long wanted to read the Divine Comedy again. In 2000 I toured La Mancha riding my bike while reading The Quixote and it turned out a great experience. If Xavier de Maistre could do a Journey around his room, I might as well make a journey without leaving my city, Barcelona. I decided to use the Joan F. Mira's version. I estimated that I could finish the reading in three days. I had to invent an itinerary that, inevitably had to be completely arbitrary.
The first thought was that I could use different means of transport every day and book.
The obvious choice for the Hell was the underground. I worked out how to ride through every station and added a visit to the Court building where perhaps I could watch real condemned.
I would move around by bus on Purgatory day and take this opportunity to undergo an delayed experiment: to catch a bus at random, get off anywhere and wander around until taking another bus at random.
Paradise would be by bike.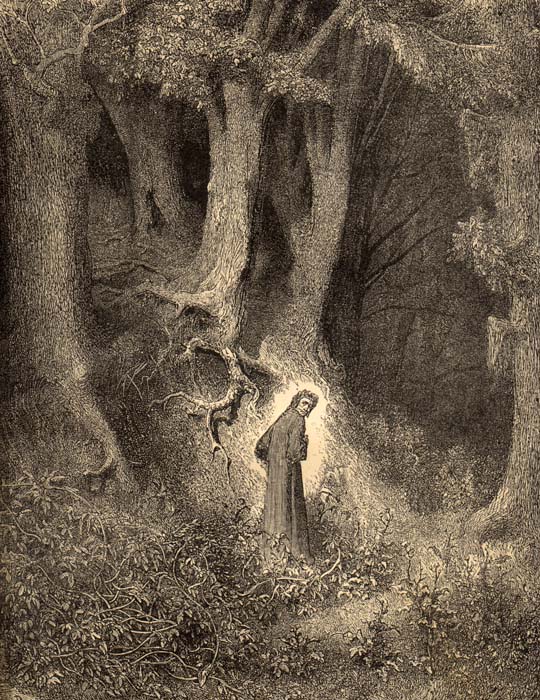 For three days I followed the narrative of personal salvation carried out by Dante, thanks to Beatrice's love. This journey classifies what should be condemned in Hell, what kind of labors must be done in Purgatory and what is rewarded with perpetual holidays in Paradise. I couldn't help joining the sport of sending contemporary characters to their presumably deserved place.
Among the many findings provided by this reading I would mention here just one: the idea that the most sacred, the sublime, that what marks the experience of the union with God and the universe, is a smile, laughing, as in this most extraordinary and happy expression: "the smile of the universe."
Cio` ch'io vedeva mi sembiava un riso
de l'universo; per che mia ebbrezza
intrava per l'udire e per lo viso.
What I beheld seemed unto me a smile
Of the universe; for my inebriation
Found entrance through the hearing and the sight.
Oh gioia! oh ineffabile allegrezza!
oh vita intègra d'amore e di pace!
oh sanza brama sicura ricchezza!
O joy! O gladness inexpressible!
O perfect life of love and peacefulness!
O riches without hankering secure!
The strategy of alternating reading and wandering to a different location almost every Chant, worked very well. I never got tired of reading and I could explore my city through new perspectives. In the way of travelogues, I've compiled a double one, the "reading" of the city, riding subway, bus and bike, and the "journey" along the pages of the Divine Comedy. Click her for a general view or go directly to Hell, Purgatory, or Paradise. (catalan only, you may use Google translate).